With a start-up time of only 5 seconds, PYTHON is a lightweight, pocket-size thermal vision spotting device that you can easily take everywhere with you. Its sharp imaging capabilities and wide detection range provide clear vision in any circumstance and allow it to be an incredible advantage in any outdoor activity.
Compact, Light, Durable
At only 298 grams, PYTHON easily fits into your pocket or backpack, so you can use it quickly in any situation. Its CNC-milled, nitrogen-filled housing is built from a single magnesium block to ensure maximum durability in long outdoor trips. Our individual testing process ensures guaranteed quality and unmatched reliability.
A-Core Module
Developed by Nitehog, the A-Core is an ultra-compact imaging engine, based on cutting-edge hardware solutions and dedicated video processing algorithms, that provides superior image quality and proven precision in the hardest environmental conditions.
Enhanced observation performance
To improve image performance, PYTHON uses two types of auto contrasting scenes that upgrade your outdoor vision and make you fully aware of changes in your sight.
Highlights
This filter quickly identifies abrupt changes in the scene's dynamic, which makes it perfect for detection and observation.
Panorama
This filter is providing stability in the image by overriding sudden changes, which makes it the best choice for observing panoramic scenes that combine forest and sky, earth and sky, scenes on the horizon, etc.
Long-distance detection range
By combining our powerful F 1.2 lens with the sensor's sensitivity, PYTHON can spot a target in up to 750 meters.
Sharp vision with Nitehog Image Razor
The Nitehog Image Razor technology enables our versatile software processing which applies different enhancements for a sharper vision in many conditions (fog, rain, snow, smoke, and total darkness). The level of those alterations depends on the customer's preference to the image they see and can be applied to any scene.
Sophisticated image anywhere
By using our own sophisticated germanium objective lens with scratch resistant hard carbon coating and a 12-micron pixel pitch, PYTHON provides a fast 60 Hz frame, which means crystal clear observation of any object with no lag.

Water resistance
PYTHON carries the IP 66 certification

Extended battery life
PYTHON has up to 5 hours of battery life

Easy-to-use
pictogram menu for quick operation
20m FOV
Wide horizontal field of view

Sensitive lens
with F 1.2 to absorb more light
and assure detailed and contrast image

Extended Warranty
to ensure maximum product lifespan
(see our warrant conditions)
Image modes
PYTHON offers a variety of image modes for different environments, situations, and personal preferences.
White hot
White Hot is a versatile choice for observing urban areas and shifting landscapes that displays warmer objects in white and cooler objects in black.
Black hot
Black Hot displays warmer objects in black and cooler ones in white, which makes it a preferred mode among hunters and law enforcement.
Red hot
Red Hot is a recommended mode for prolonged observation. The red-black image minimizes blue light emissions from the display and reduces eyes strain from extended usage.
Isotherm
The isotherm mode colors objects above the threshold temperature in different shades of red. The temperature threshold can be set (increase/decrease) by the temperature scale available.
Outdoor sports activities
PYTHON is the perfect addition to your equipment set for your outdoor hobbies as it will give you an upgraded sense of your surroundings by allowing you to navigate in the toughest atmospheric conditions.
Nature preservation
PYTHON is the perfect tool for the observing the migration and calculating the population of animals in extended areas. It can even ensure the security of livestock in farms during harvesting periods.
Buildings and engineering
PYTHON is capable of monitoring and spotting abnormal heat signatures across buildings, warehouse areas and industrial equipment to prevent any unwanted damage.
Surveillance and security
PYTHON is an incredible asset for observing and securing large building sites and extended living areas.
First-call services
Due to its technical advantages, PYTHON could easily be applied in emergency situations by policemen, firefighters, mountain rescuers, and even volunteers.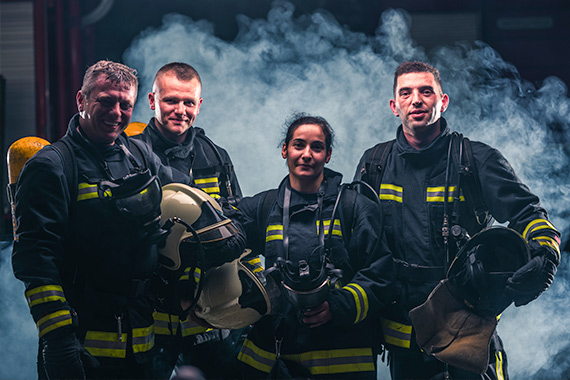 Technical Specifications
| Technical specification | Nitehog PYTHON |
| --- | --- |
| Sensor size | 320×240 |
| Pixel pitch | 12 |
| Focal Length, Objective Lens | 19 mm, Germanium Lens with hard Carbon coating |
| F | 1.2 |
| Frame rate, Hz | 60 Hz, progressive |
| Magnification | 1.6x optical, 2x4x digital |
| Display resolution | 1024×768 OLED |
| Battery life | up to 5 h |
| Dimensions | 136/68/47 mm |
| Weight, kg without battery | 0.296 |
| Waterproof | IP 66 |
| Human detection range, m | Up to 750 |
| Horizontal FOV, m/100m | 20.14 |
| Start up | < 5 sec |
Take a close look at this lightweight, pocket-size thermal vision spotting device
How to use and why to choose this pocket-size thermal vision spotting device
What's in the box
To ensure your utmost experience with our product, PYTHON comes bundled with a transportation box, a battery set (2 pcs), a battery charges, Lenspen, a neck strap, a cleaning cloth and a Cordura bag.
Where to find python
Check out our interactive map to find PYTHON in the closest store to you.