Small size, ultra-low profile, no rezeroing
VIPER is the smallest, lightest, and most compact device in its class, measuring at only 254 grams (without battery). Its sophisticated low-profile clip-on design eliminates the need to remove your day sighting equipment since the device mounts directly in line with a standard daytime rifle scopes without the need of any tools. Most importantly, you do not need to re-zero the rifle every time you change the sight, which means point of impact always stays the same.
Guaranteed precision
VIPER provides uncompromised precision in the repeatability of the point of impact. Due to our rigorous individual device testing, we can guarantee a standard deviation of up to 3 cm per 100-meter distance without alignment or zero deviation per 100-meter distance with alignment performed.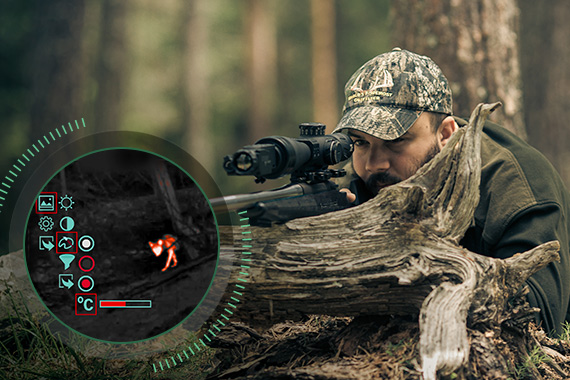 Incredible detection range of up to 1380 meters
By matching our powerful F 1.2 lens with a sensitive cutting-edge sensor, VIPER provides incredible detection capabilities. A standard object of 1.8 meters can be spotted up to 1380 meters away even in challenging outdoor conditions.
A-Core Module
Developed by Nitehog, the A-Core is an ultra-compact imaging engine, based on cutting-edge hardware solutions and dedicated video processing algorithms, that provides superior image quality and proven precision in the hardest environmental conditions.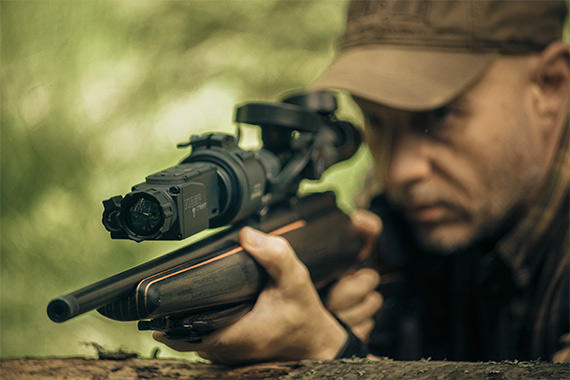 Clear real-time image
By using a sophisticated germanium objective lens with scratch resistant hard carbon coating and a 12-micron pixel pitch, the VIPER provides the fastest 60 Hz frame rate on the market, which means crystal clear observation of any object with no lag.
Sharp vision with Nitehog Image Razor
The Nitehog Image Razor technology enables our versatile software processing which applies different enhancements to ensure clear and sharp vision in a variety of environmental conditions such as fog, rain, snow, smoke, and total darkness. The level of those alterations depends on the customer's preference to the image they see and can be applied to any scene.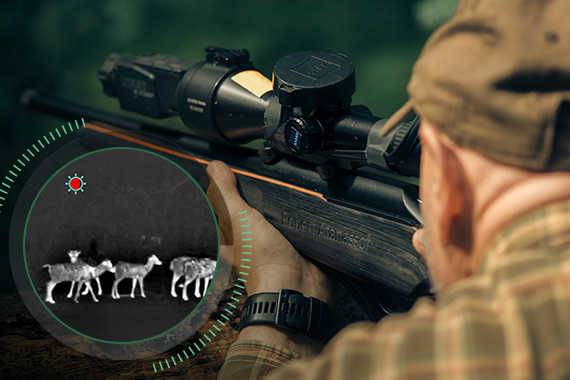 Water resistance
VIPER carries the IP 66 certification

Up to 1380 m
of long-range of detection

Easy-to-use
pictogram menu for quick operation

Long battery life
VIPER has up to 5 hours of battery life

No magnifier
You do not need an additional magnifier in observation mode

Sensitive lens
with F 1.2 to absorb more light and assure detailed and contrast image
Durable housing
made of resistant magnesium alloy
and matte anti-reflective coating

Extended warranty
to ensure maximum product lifespan (see our warrant conditions)
Image modes
VIPER offers a variety of image modes for different environments, situations and personal preferences.
White hot
White Hot is a versatile choice for observing urban areas and shifting landscapes that displays warmer objects in white and cooler objects in black.
Black hot
Black Hot displays warmer objects in black and cooler ones in white, which makes it a preferred mode among hunters and law enforcement.
Red hot
Red Hot is a recommended mode for prolonged observation. The red-black image minimizes blue light emissions from the display and reduces eyes strain from extended usage.
Isotherm
The isotherm mode colors objects above the threshold temperature in different shades of red. The temperature threshold can be set (increase/decrease) by the temperature scale available.
Hunting
VIPER provides clear vision to hunters in the toughest conditions by significantly improving their aim.
Nature enthusiasts
VIPER gives a new level of environmental awareness to nature lovers, animal photographers and avid mountaineers.
Civil observation
VIPER is an incredible asset for observing and preventing emergencies in large building sights and extended living areas.
First-call services
Due to its technical advantages, VIPER could easily be applied in emergency situations by policemen, firefighters, mountain rescuers, and even emergency volunteers.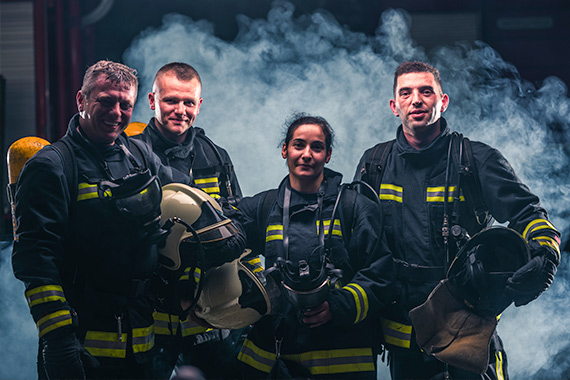 TECHNICAL SPECIFICATIONS
Technical specification
Nitehog VIPER
Sensor size
320×240
Pixel pitch
12
Focal Length, Objective Lens
35 mm
F
1.2
Frame rate, Hz
60 Hz, progressive
Magnification
1x optical, 2x4x digital
Display resolution
1024×768 Microoled
Battery life
up to 5 h
Dimensions
133x63x46 mm
Weight, kg without battery
0.254
Waterproof
IP 66
Human detection range, m
1380
FOV, m/100m
10.97
Start up
< 5 sec
Image modes
white hot, black hot, red hot, isotherm
Accessories included
Transport box, battery set /2pcs/ 18650, battery charger,
Lenspen, neck strap, conterring, cleaning cloth, Cordura bag.
Take a close look at this thermal imaging device
How to use and why to choose this small, light and compact thermal imaging device
How to set up and use your VIPER multifunctional thermal device
In the box
To ensure your utmost experience with our product, VIPER comes bundled with a transportation box, a battery set (2 pcs), a battery charger, Lenspen, a neck strap, counter ring , a cleaning cloth and a Cordura bag.
Accessories for this product
VIPER is compatible with a variety of items available at additional purchase from our distributors. Please, contact a deal near you for more information.
Photo adapter for Viper Nitehog
Photo adapter for Viper Armazone
Where to find viper
Check out our interactive map to find VIPER in the closest store to you.